The 2021 Fiat 500e, how good is it? Exclusive: Range Test
This car is a stylistic icon, but from the ground-up, it is a new electric car, which is much better than it has a right to be.
07.02.21
The country is in in one of the longest cold periods for years, and there is this half frosted wonderfully sea-green little Fiat in front of Sarpsborg Bilsenter's building.
And considering the last generation at the last half of its long life ended up as a compliance car in California, with maybe 100km of range and a stiff ride, it was fun but not much else.
Today it's between -5 to -10 degrees and partial icy roads, how is this going to work out, the car isn't big enough to have a massive battery is it?
I have always loved the small fiat, the original ones from the 1950's are a tiny rear engine car that today looks almost comical as every other car has grown the last 30 years, and this latest version also comes with both a hybrid and a petrol engine, but in Norway its only coming as fully battery electric.
The new styling have sliced the top of the headlights to make eyebrows and moved the indicators further up on the wings, but it still looks like the iconic small fiat and it just looks cool and now less cute but with more attitude than before.
The boot is not very big, but on par with that in the Mini and maybe slightly smaller than in the Kia Soul.
This is for all intents and purposes a two-seater, it has rear seats, but they will mostly act as added luggage space, and unlike in the new Mini, I didn't try to get into them, being almost 1.9 meters high (6 foot 4 inches).
The interior is also brand new compared to the old car. Gone is the old 1-DIN radio and cd-player unit and the combined rev counter within the speedometer dial.
Now it's a 7 or 10" landscape screen, LCD instruments and a dashboard coloured to match the exterior. Yes the build quality and plastics can be a bit cheap, but you forgive it because it is so charming. The sound system is also very good, particularly considering this is a rather small car.
That doesn't sound that much but its pushed out towards the cabin and actually feels good to use. The user interface is very easy to understand and full of smart little menus and also apps. The car also runs wireless Apple car-play/Android-Auto and it asks you if you want to run car play the moment you connect the phone via Bluetooth, so very simple indeed.
The car has a wireless charger under the screen, power sockets under the armrest, that also holds the cupholder and another one can be accessed by pulling it out of the front under the scroll wheel for the volume. The little original Fiat 500 and made in Torino text inside the door handles are charming and show they do care about their history.
The instruments are clear and easy to use, all the buttons on the steering-wheel are big and easy to use, the trip computer are simple enough to navigate, and it has buttons behind the steering wheel for volume and source and stuff. A bit overkill considering the tine size of the car makes using the scroll wheel between the seats a natural default.
The steering wheel itself is not leather, as I first thought, but a very comfortable imitation, and it's thin and very nice. The cars turning circle is absolutely brilliant and would get you around even the tightest of narrow Italian town-streets.
The seats are soft and comfy just like expected, even though I am sat a bit high even with seats at their lowest meaning that headroom can be a bit of a squeeze, but overall it is "okay". And the car feels spacious from the front seats.
Actually one easily forget the car only is 363cm long until you check blind spots and look out the rear window, so it is very safe in that regard as you always know what is around you at all times.
The car has three driving modes, Normal, Sherpa, and Range. Sherpa cuts the aircon a bit and also limits it to 80km/h so gets you as far as it can go. And I never use Range mode in any car because it makes the car feel like a 1 litre diesel with no turbo, or worse. I inadvertently put it into range mode at some point and it worked just well.
I kept warm and it didn't cut all power either, so it just stayed the entire test.
The car is rated for 320km WLPT (198 miles) and the test route is around 160km of almost equal country roads and motorways, so in theory, this should work out just fine. The consumption is rated at 131wh/km (211 wh/mi), so not too bad given that the designs aren't optimized for aerodynamics.
The car is nicely damped and relatively quiet, not a Lexus but not too shabby either. Over smaller undulations and frosty roads, the very short axel spacing doesn't help here of course, but most of the time it's a very nice car. Its predecessor was just very stiffly sprung without any finesse at all, this one feels like a car. The instrumentation makes it easy to read out your remaining range, and on mostly dry country roads it has a very nice consumption, as the first hour only consumes 23% of the battery, we left the dealer with 97%.
The car comes with a choice of two batteries, both from Samsung SDI: 24 or 42kWh with 95 or 118hp, this is of course the latter.
I know that sounds a bit like an old, well Fiat I guess, but like in the E-up, this small city car gets a whiff of luxury with its silent electric motoring and instant torque, and it never feels like it's out of power even pushing hard on the motorway.
There is a marked difference once the motorway opens up and the adaptive-cruise-control is set to 115-120km/h, and although the consumption is read out in km/kWh (why can't we all standardize on wh/km?) and I am too bad in mathematics to convert it, the percentage meter and range meter falls much faster than previously. But instead of freaking out, the car gives me the information I need, and even though the consumption is up, it's consistent all the way and I never feel I can't trust the instruments or the car.
In-fact I keep enjoying the car, it has a lane-keeping assist that actually is ok. Not on the level with the Jaguar or Volvo, but much better than expected. But then again this is a modern car built with all possible safety technology that's needed to pass all the tests, and all of that in a car that's the size of a big shoe. After all, 15 years ago, having this much driver assist in this car and this quiet powertrain would be close to magic.
But all things come to an end, even magical rides in charming little Italian city-cars.
After around 150km I was at 10% and decided to plug in, the route has plenty of chargers so that is never a worry. I did push the car on the motorway and this car will probably mostly be driven around locally or in the close region by most customers, so I imagine one could get closer to 170km if driven more carefully. -8 degrees C is winter in many places, and on country roads, 200km should be very easy, but on the pure motorway, I imagine between 100-150km, maybe more too. In warmer weather this will of course be completely different, but it's much better than I expected, and was delivered in such a calm and easy-going manner many could learn from.
When it comes to charging, the car is rated at 85kW DC and has a 11kW onboard, that's actually not bad considering it has a medium size battery. The receipt from the charging session showed that I was there 20 minutes and got 20kWh, so clearly a cold battery and would be much better on a less cold day.
Does this make the car useless? No, most cars charge slower in the winter, and you do get a lot of cars in a small form-factor. The new Fiat 500 is the best most charming small car out there, with the possible exception of the Honda E, but we don't get that here in Norway sadly. It has a longer range than the Honda, and probably as good or better than the Mini electric, partly because it is driven in a more relaxed manner more of the time.
This is a very well-appointed car, a good two-seater with lots of cargo space, well equipped and a very decent sound system, and considering the market segment this is aimed at, long road trips are never what this is designed for anyway.
Prices are from 214.900NOK all the way to 310,000 ($21,000- $31,000), if you want a Cabrio (convertible variant) that's another 30,000NOK on top ($3,000).
LivingEVs Take:
Well, this is a fun one! I, like Mats, have always liked the quirkiness of the old 500's and this electric variant really shows the signs of the times and how the market is really shifting to a sustainable future. I have not had a chance to drive the 2021 variant, but have had many the chance to drive the older ones, which are both quite responsive and nippy around the town. From the 2021 variants, I am very impressed to see a 198-mile range from such a small battery back and even achieving a decent efficiency number even with a cold battery pack, even with the harshness of the Norwegian winters.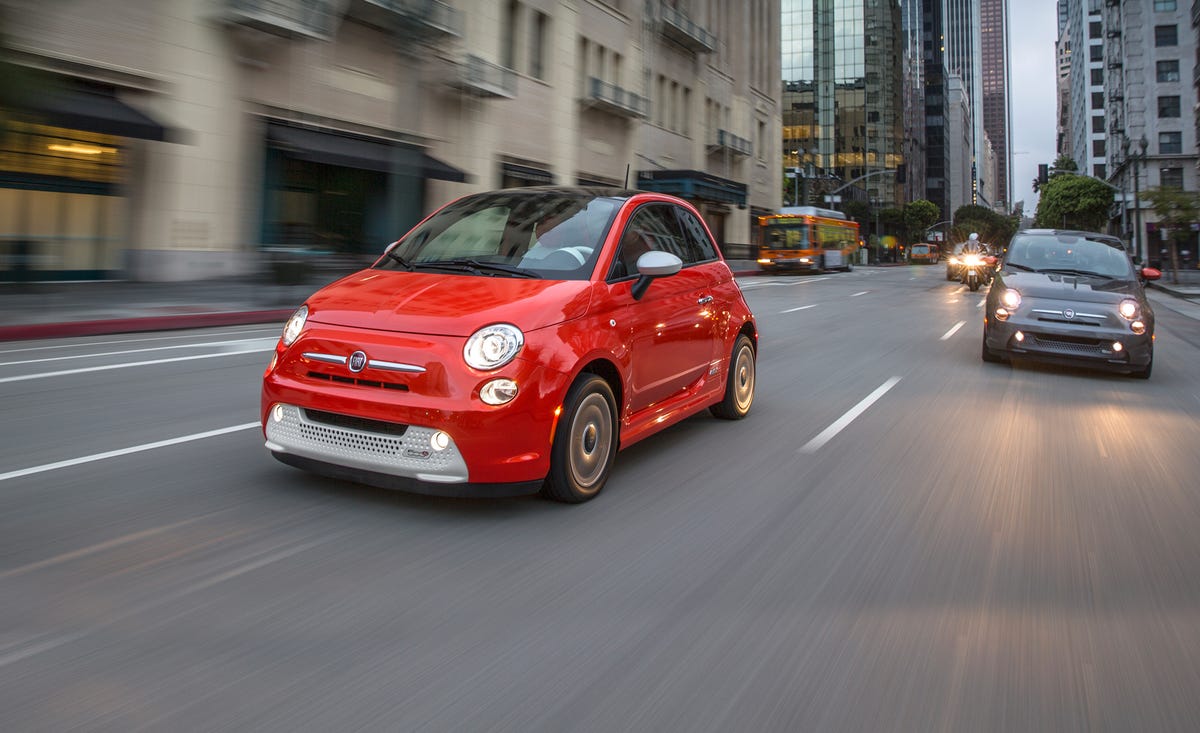 Pricing is also very decent too, starting at $21,000 in Norway (equivalent), which is quite a great number and even a selling point for many. I believe they will have a hard time selling them here in the United States as here, the market is mostly SUVs and Pick-Up trucks so very few people actually care about cars of this size.
I also love the tributes back to the older variants such as the "Made in Torino" plaque which really pays tribute and I would love to see them together.
As for connectivity, I am quite impressed as the Italians have typically not really bothered about having all of the screens and interesting UI features, but I really think this suits the car. Fast charging capabilities are quite average at 85kW fast charging but is decent as it comes with an 11kW AC onboard inverter which is plenty for a pack of this size.
Overall, I would spend the extra cash on something slightly more practical such as a Model 3 or Hyundai Ioniq. I could definitely see me driving this around the small streets and corridors over in Tornio though, haha.